Inorganic Polymer Glass (IPG)

XBH produces and supplies IPG, a superior quality "spin-on" optical polymer.
Inorganic Polymer Glass (IPG) is a patented, highly stable inorganic polymer with the processing and design properties of a flexible organic polymer. It is made through a unique process. IPGs have highly reproducible and stable optical properties, and IPG films have low stress and high uniformity. IPG materials are uniquely suited for the fabrication of high quality optical films and waveguides.
Features
Lower loss and higher temperature stability than organic materials
Photosensitive patterning using mask aligner, stepper or laser scanning
Highly reproducible and stable optical properties
Low film stress and excellent index and thickness uniformity

Tuneable properties such as:
Refractive index
Thermo-optic coefficient
Thermal expansion coefficient
Advantages
Does not suffer thermal hysteresis unlike high Tg (glassy) materials
Makes low stress films with very low PDL values
Stable to above 300 °C
Stable to chemical oxidation in oxygen environments
Very good durability and stability
No thermal ageing
Excellent resistance to moisture
Suitable for metallisation and electrode patterning
Solvent free processing
High quality films
Environmentally safe
Low cost shipping and handling
Nominal Specifications
Fully Tuneable Refractive Index Range (25°C)

Cured Film, 1550 nm: 1.474 - 1.528
Cured Film, 633 nm: 1.491 - 1.543
IPG™ Resin, 633 nm: 1.485 - 1.535

Thermo-optic coefficient (dn/dT)

~ -3 x 10-4 /°C (over whole index range)

Birefringence

~ 1 x 10-4

Resin Absorption Loss

1550 nm: ~ 0.5 dB/cm
1310 nm: ~ 0.25 dB/cm
850 nm: < 0.1 dB/cm
633 nm: < 0.1 dB/cm

Resin viscosity

1,000 - 10,000 cP (controllable)

Film thickness

0.5 - 50 um (single spun layer)

Thermal stability

>300 °C
Thermal Properties
13.5 um film of IPG on silicon wafer shows no hysteresis in index or thickness when thermally cycled:
<![if !vml]>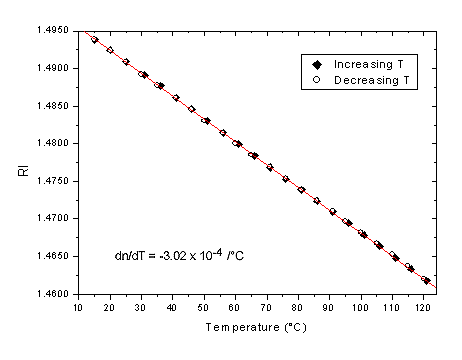 <![endif]>
<![if !vml]>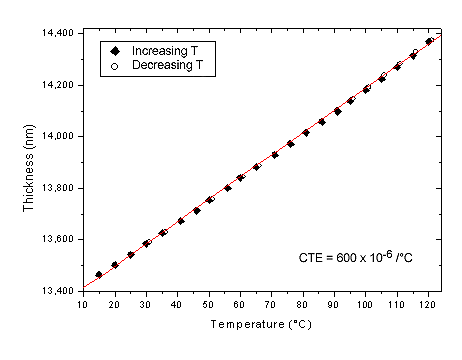 <![endif]>
Absorption Loss
<![if !vml]>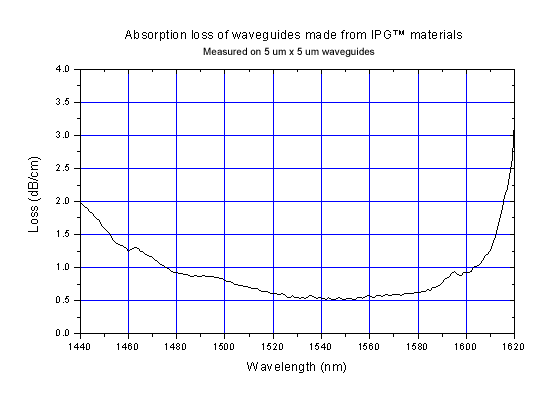 <![endif]>
If you need any special spec, we can customize




If you don't find what you're looking for, Contact Us. We may have a suitable product that's not listed, or we may be able to develop a material to fit your specific needs. Tel : (02)2217-3442 / Fax : (02)2704-4070