Advanced Polymer Integrated Optics (APIO)
XBH's Advanced Polymer Integrated Optics is a platform technology for the design & fabrication of polymer optical chips & hybrid optical chips containing polymer.
It is the combination of a reliable and scalable chip fabrication process with a large toolbox of optical designs. It has the ability to integrate a range of optical functionality, with a flexible layout and a small footprint. It can deliver high volume manufacturing, with standard semiconductor fabrication equipment, at high yields and low cost.
Products
Passive PLC chips
Splitters
Mux/demux (1550nm / 1310nm)

Custom Device Design
Innovative and professional design services
Low cost, small footprint, high performance planar solutions
Customised layout and footprint

Foundry Services
Mask design and layout
Fabrication
Dicing
Fibre attachment
Full chip characterisation
Wafer characterisation
Advantages

Small footprints possible due to high index contrasts

Small bend radius
Low device losses
Suitable platform for complex functionality (better than Silica on Silicon)
Dynamic attenuation using thermo-optic coefficient
Modulation by incorporation of electro-optic chromophores
Scaleable to Volume Manufacture

Few steps
High yields
Direct UV Patterning (resist free process with no ion etching)
Low capex cost
Small facility requirements
Low labour cost
Wafer size independent

Solvent free processing

High quality films
Environmentally safe
Low cost shipping and handling
Nominal Specifications
Fully Tuneable Refractive Index Range (25°C)

Cured Film, 1550 nm: 1.474 - 1.528
Cured Film, 633 nm: 1.491 - 1.543
IPG™ Resin, 633 nm: 1.485 - 1.535

Thermo-optic coefficient (dn/dT)

~ -3 x 10-4 /°C (over whole index range)

Birefringence

~ 1 x 10-4

Resin Absorption Loss

1550 nm: ~ 0.5 dB/cm
1310 nm: ~ 0.25 dB/cm
850 nm: < 0.1 dB/cm
633 nm: < 0.1 dB/cm

Resin viscosity

1,000 - 10,000 cP (controllable)

Film thickness

0.5 - 50 um (single spun layer)

Thermal stability

>300 °C
Patterning of Waveguides
| | |
| --- | --- |
| <![if !vml]><![endif]> | <![if !vml]><![endif]> |
| 1x16 MMI splitter output | Waveguide core (proximity exposure) |
Insertion Loss
<![if !vml]>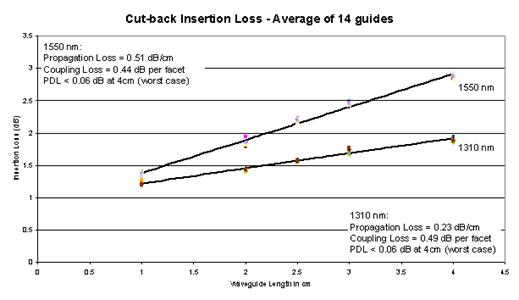 <![endif]>
Fabrication Process
 



If you need any special spec, we can customize




If you don't find what you're looking for, Contact Us. We may have a suitable product that's not listed, or we may be able to develop a material to fit your specific needs. Tel : (02)2217-3442 / Fax : (02)2704-4070