Model 2060VJ (Static Coater)Parylene Deposition System
System Features Include :

Automatic Operation/PLC Control
Automated Vaporizor and Pump Valves
Programmable Digital Discrete Temperature Controller For All Heated Zones
24" Dia. X 32" High Jumbo Vertical Chamber (~230 liter Capacity) With Hinge Lift, Fixtures And Baffles.
Cold Trap Base.
Message Display – Function/Error
Direct Drive E2M30Vacuum Pump – 19 CFM @50Hz / 23 CFM @ 60Hz .
Rotation Sensing.
Heated Load Door.
Heated Vaporizor Valve.
PDS 2060 Mechanical Chiller (208-240V, 50/60 Hz)
20042 Cascade Refrigeration System, Includes Cold Probe Temperature Display

E2M40 Vacuum Pump in lieu of Standard E2M30 (PP-574-1001) Vacuum

Pump (25 CFM@50Hz, 30 CFM@60Hz)
Parylene Deposition Process
Parylene is applied at room temperature with deposition equipment that controls the coating rate and ultimate thickness. Polymer deposition takes place at the molecular level:
Beginning with the granular form of Parylene, raw material Dimer, the material is vaporized under vacuum and heated to a dimeric gas.
The gas is then pyrolized to cleave the dimer to its monomeric form.
In the room temperature deposition chamber, the monomer gas deposits as a transparent polymer film.

The required thickness of a coating can vary based on the application, but thickness can range from the hundreds of angstroms to several mils, with the typical coating being in the microns range.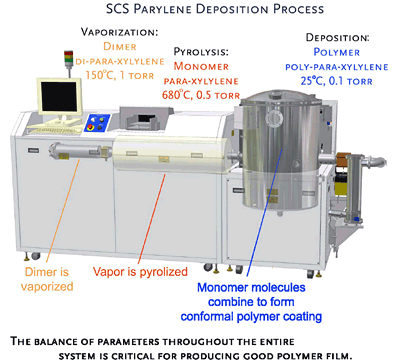 Growth of sculptured polymer submicronwire assemblies by vapor deposition


Emergent properties of spatially organized poly(p-xylylene) films fabricated by vapor deposition


If you don't find what you're looking for, Contact Us. We may have a suitable product that's not listed, or we may be able to develop a material to fit your specific needs. Tel : (02)2217-3442 / Fax : (02)2704-4070