Portable Vacuum Deposition Systems


Precision Gas Phase Polymer Deposition :
Specialty Coating Systems offers three Parylene deposition system models ranging from a portable unit for laboratory and process development use to large production models for higher volume manufacturing applications.
System Operation :
SCS Parylene deposition systems are designed for accurate and repeatable operation by non-skilled workers. The entire coating process is automatically controlled via a
programmable logic controller. The coating system operator is tasked with loading
substrates into the coating chamber, loading the dimer into the vaporizer and depressing the process start button. The deposition system alerts the operator when the process is completed.
Each deposition system features an operator's control panel that displays critical, factory pre-programmed process parameters. Process settings are accessible and can be changed by qualified personnel when necessary. All three models feature closed-loop monomer pressure control. This feature ensures deposition of the polymer film at a precise rate.
Operating temperatures and pressures are factory set and continuously monitored. Any
deviation from acceptable limits results in audible and visual alarms. Automatic process
shutdown is initiated following process fault conditions of sufficient duration.

A printed chart of key processing parameters is included as a standard feature Model PDS-2060.
A communication port is also provided for uploading process data, on the Model, and this data can be used to generate statistical process control information.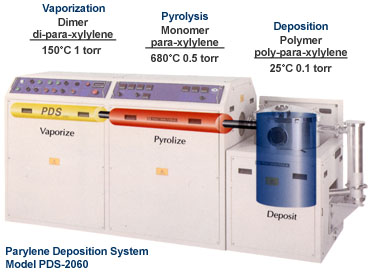 Deposition Process :

Parylene is applied at room temperature with deposition equipment that allows control of both coating rate and ultimate thickness. Polymer deposition takes place at the molecular level as the chemical, in dimer form, is vaporized under vacuum and heat to a dimeric gas, then pyrolized to cleave the dimer to its monomeric form, and finally deposited as a transparent polymer film.
Coating thicknesses from 0.10 micron to 76 microns can be applied in a single operation.
Deposited at a typical rate of 5 microns per hour upon process equilibrium.
No catalysts or solvents are required.
A cold trap allows for liquid nitrogen or mechanical chiller cooling to prevent Parylene from depositing in the vacuum system.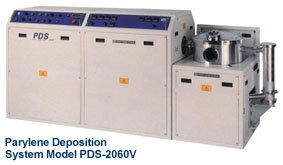 System Features :
Modular generation unit construction
Interchangeable chamber modules
Closed-loop monomer pressure control
Continuous process monitoring
Low-noise direct drive vacuum pumps
Message display, battery backup and data logging*
Easy-access foldout electrical and instrument panels*
Fixture rotation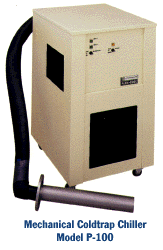 *PDS-2060 models only
Optional System Accessories:
Mechanical cold-trap chiller or automatic liquid nitrogen level controller Chamber extension and reduction kits
在高真空狀態下,真空室內殘餘氣體分子的65%到95%以上都是水分子以及水分子與其他氣體分子的結合物,這些水汽分子是典型的最具副作用性的污染氣體。以往常用的方法是,離子清洗和高溫烘烤,但真空系統尤其是擴散泵系統對水蒸氣抽速太低,而用昂貴的低溫泵系統也僅僅吸附和掩埋掉真空室中的一部分水蒸氣分子,高溫烘烤也只是把水分子從基片表面遷移,使基片減少對水蒸氣的吸附,而P-100冷泵是將90%以上的水分子吸附在低溫盤管(Cryocoil)的表面,並能吸附掉真空室內一部分油分子,如果在真空系統水冷阱的上面放置P-100冷阱,不僅能吸抽水汽,而且可以防止擴散泵返油。
P-100快速迴圈水汽冷泵(低溫泵)採用了SCS公司專利的低溫冷凍技術,其工作原理依然是麥斯納(Meissner)吸收原理。使水汽分子在低溫盤管(Cryocoil)的超低溫表面上凝結,從而達到捕集水汽的目的。這種低溫盤管(Cryocoil)直接裝在真空室內,系統不再受接頭、進氣管、閥和擋板等的冷傳導的影響,低溫盤管的安裝不需要高真空閥,可在任何系統中方便地進行。
P-100快速迴圈水汽深冷泵能很快地捕捉真空系統中65%到95%的水蒸汽分子,由於水蒸汽分子的含量迅速降低,使鍍膜機的抽氣能力得到提高,一般抽真空時間可以減少25%到75%,極限真空可提高0.5個數量級。
PDS-2060 Options "
Convenience Package consists of automated vaporizer valve, uninterruptible power supply, load door and chamber lid interlocks.
Tumble coater chamber modules

Portable Parylene Deposition Systems
 
Model PDS 2010 LABCOTER® 2

The Specialty Coating Systems, Inc., LABCOTER® 2 vacuum deposition system is the first portable system designed for deposition of protective
Parylene conformal coating.

This compact coating unit is suitable for laboratory research applications, circuit board repairs, and small production coating runs on applications such
as printed circuit boards, electronic sensors, medical components, organic samples, and many other substrates.

Parylene is an inert, nonconductive polymer that is applied in a thin layer to isolate materials such as electronic circuit boards, automotive electronic
assemblies, and medical devices from moisture, contaminants, corrosives, and acids.

This unit weighs only 170 lb, and operates on 110 VAC 20 amp service.
Compact size and rolling casters make it easy to position for operation or storage. A cold trap allows for several cooling methods. Standard: manually
dispensed liquid nitrogen. Optional: Liquid nitrogen with automatic level control; or mechanical chiller.

In its computer controlled automatic mode, the system pumps down to a preset pressure and the furnace cycles up to operating temperature. When
proper temperature and pressure values are established, the vaporizer begins Parylene sublimation. Operating levels are continuously monitored and any deviation results in audio and visual alarms, with automatic halting of deposition.

---

PDS 2010可沉積材料為 Parylene C 及 N 型,與矽膠(silicone)、氨基鉀酸酯(urethane)、環氧化物(epoxide)相比具較佳之抗滲透性。目前聚對二甲基苯薄膜的應用除了封裝或防水塗裝外,亦也在微機電系統(MEMS)、燃料電池及有機致電發光二極體(OLED)等領域。 原理 聚對二甲基苯沉積系統原理是將一種二聚物放於真空環境下,經由蒸發、高溫熱解為單分子並重新鍵結後,將聚對二甲基苯以高分子的型態沉積於元件表面。 整個沉積過程,第一階段,將雙對二甲基苯粉末放入蒸發管並啟動機械式真空泵浦使整個沉積系統保持於低真空狀態。並開始加熱到 150°C 以上,促使雙對二甲基苯蒸發為氣態並進入熱解管中。第二階段,熱解管的溫度達 650°C 以上,氣態雙對二甲基苯進入時會被高溫熱解為單分子型態的對二甲基苯。第三階段,高溫的氣態對二甲基苯被噴發於沉積腔體中。因未對腔體加熱,所以腔體溫度在大約 25°C 左右,這使得對二甲基苯開始重新鍵結成為高分子型態的聚對二甲基苯並附著於基材表面上。

LABCOTER® Specifications

Dimensions: 19.4 in wide x 48 in high x 24 in deep
Weight: 170 lb (77.18 kg)
Chamber Size: 12 in x 12 in (30.5 x 30.5 cm)
Optional reduced capacity 3 inch high chamber with view port is available
Power: 110 VAC, single phase, 60 Hz, 20 amp service
Dimer Capacity: 125gm
Vacuum Pump: 7.4 cfm, two stage, direct drive
Controls: Semiautomatic, microprocessor temperature and pressure controls,
fault alarm monitoring


 

---

聚對二甲基苯沉積系統卻棒,可避免殘餘的聚對二甲基苯氣體沈積於機械式真空泵浦或影響泵浦油之品質。

Mechanical Chiller (optional)
Dimensions: 10 in wide x 18.4 in high X 20 in deep
Power: 110 VAC, single phase, 60 Hz, 12 amp service

UV–visible and infrared characterization of poly(p-xylylene) films for waveguide applications and OLED encapsulation


Growth of nanostructured thin films of poly( p-xylylene) derivatives by vapor deposition






If you don't find what you're looking for, Contact Us. We may have a suitable product that's not listed, or we may be able to develop a material to fit your specific needs. Tel : (02)2217-3442 / Fax : (02)2704-4070