This technology deposits electronic materials onto low-temperature,non-conformal substrates without masks or resists.

A neglected middle ground exists in microelectronic fabrication. Major manufacturing techniques are designed to deposit very small electronic features and relatively large ones. But no deposition technology currently on the market is aimed at crucial midsize components such as resistors, capacitors and inductors. However, a new technology for producing midsize electronic features has recently been developed. Without masks or resists, this technology can write lines of electronic materials less than 25 μm wide onto polymer, glass or ceramic substrates, for manufacturing of printed wiring boards (PWBs) and other devices.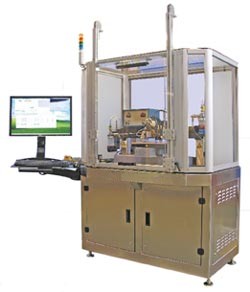 Sol Jet
printer is a valuable tool for product development because it generates circuitry on PCBs directly from a CAD file.
Sol Jet
printer
makes it much easier to implement and validate design changes without the need for legacy mask sets and other accessories required by conventional deposition techniques. The elimination of masks and resists also permits on-the-fly changes and rapid design iterations. The result is faster time-to-market for new products.
Sol Jet
printer
微線路圖形印刷
,
低溫接著塗佈機
,不使用光罩
,
節省成本,改善生產效率

Sol Jet
printer
提供噴墨製程厚膜生產,彈性圖形設計加快生產效率

10 μm line width
20 μm pitch
Enables >36,000 spots/hour

Conformal deposition over varying topologies with no change in Z height}
60 μm line width
500 μm trenches
Direct Printing of Circuit Boards Using Aerosol Jet


Optimizing Aerosol Jet® Printing Of Silver Interconnects On Polyimide Film For Embedded Electronics Applications


Photo resist printing ... contact to the printhead nozzle plate results in higher jetting stability and longer printhead lifetime


If you don't find what you're looking for, Contact Us. We may have a suitable product that's not listed, or we may be able to develop a material to fit your specific needs. Tel : (02)2217-3442 / Fax : (02)2704-4070