Plasma is the most environmentally safe method of both organic removal and surface modification to date. Plasma processes can be tailored to produce hydrophobic or hydrophilic surfaces on metals, plastics, glass or polymers. Recent advances in the uses of polymers and as a result the need for hydrophilic surfaces for adhesion has fueled the development of the plasma surface modification industry. This seminar will review the current industry and how it addresses the adhesion issue in terms of available equipment and future potential.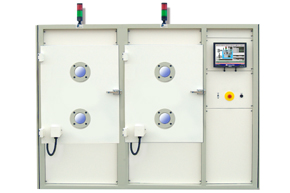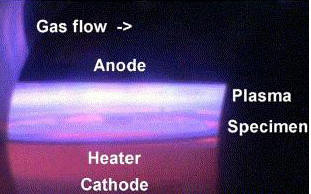 What is Plasma
Plasma can loosely be defined as a partially or wholly ionized gas with a roughly equal number of positively and negatively charged particles. It has been dubbed as the "fourth state of matter" because of its general properties which are similar to both a gas and a liquid.
There are both high and low temperature plasmas. High temperature plasma is found at atmosphere in its manmade form as a plasma torch or naturally in the form of lightning,.Low temperature plasmas, as used in surface modification and organic cleaning, are ionized gases generated at low pressures. These low pressures allow for a relatively long free path of accelerated electrons and ions which are essentially at ambient temperatures. With relatively few collisions there is a low energy transfer thus keeping the temperature of the reaction in the ambient range.
The ionization of the gas is accomplished by applying an energy field using one of three
government regulated source frequencies:
Low frequency or < 100 KHZ.
RF frequency or 13.56 MHZ.
Microwave frequency or 2.45 GHZ.
The frequencies selected for these sources are controlled by international agreements to prevent use of sources which would interfere with communication bands worldwide. Unfortunately for manufacturers, the least desirable method of generation is also the least expensive - low frequency. Low frequency plasmas are the least eflicient for several reasons which go beyond the scope of this presentation. The efficiency is related to the energy necessary to sustain the ionization and both the intensity and frequency of vacuum ultraviolet (VUV) radiation.
Most plasma system use either RF frequency or MW frequency sources. XBH uses almost exclusively RF sources because of the overall advantages associated with this method. RF plasmas have been shown to exhibit significantly higher levels of VUV which in part explains the higher concentrations of electronically charged particles than found in the other plasma sources. RF plasmas have also been noted to be more homogeneous which is critical in treating irregularly shaped and overly large objects.
MW source plasmas are generated "downstream" or in a secondary environment. This means that the plasma is generated in one chamber and the active species are drawn by vacuum differential into the work area. Though this can be advantageous for organic removal it does produce a less homogeneous process and as a result provides reduced uniformity across the work area. In areas of surface modification the effective depth of the modification is tens of nanometers so the uniformity of the process becomes increasingly important.
There are several resultant effects to the plasma interaction with the surface, each of which has a reaction to the adhesion process. These effects are, but are not restricted to:
Organic removal
CASING (Crosslinking via Activated Species of Inert Gases)
Ablation
Surface chemical restructuring

PE-CVD Hardening and Matching Coating for Ophthalmic Plastic Lenses


Properties of fluorinated amorphous diamond like carbon films by PECVD


Scratch-proof spectacles process finds new markets


Plasma polymerization: chemical analysis of the plasma gas phase





If you don't find what you're looking for, Contact Us. We may have a suitable product that's not listed, or we may be able to develop a material to fit your specific needs. Tel : (02)2217-3442 / Fax : (02)2704-4070